Are You Struggling With Building Your Website Yourself?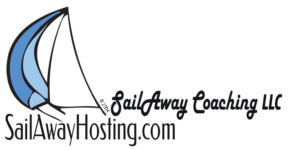 Trying to decide on a domain name for your website or looking for an easy to use website template system with built in SEO?  As we chart our own course and share our stories on the World Wide Web and Web 3.0 it pays to have a support system. When I first started building websites back in 1997, I was unsure of which content management systems would work the best for my business and my blog. If you are having trouble navigating the the endless sea of internet options SailAway Coaching can help make it easier for you by helping you secure the perfect domain name and web hosting or platform for your website. I enjoy sharing my web building skills, learned over 20 years in the business,  to encourage people who want to manage their own websites. I grew  up sailing and now I live on a sailboat where I enjoy web consulting from my waterfront office!  My Father taught me that life is a journey of finding balance and staying on the right tack. That is him sailing his Vagabond 47 in my featured image above. He sailed the entire Caribbean and taught me to be fearless in the ocean.  I can support you with knowledge  and technical skills helping  you be fearless as you navigate your way to a successful website and marketing plan for your business. So if you are struggling to build your website your self or just need to ask a question please reach out to me.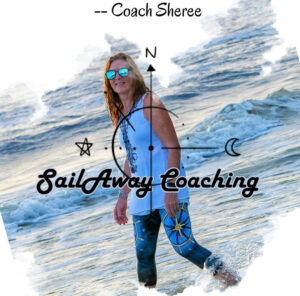 Looking for the Perfect Domain Name for Your Business Website?
Trying to decide on a domain name for your business? Like you I have pondered making the right choice many times.  I  have helped hundreds of people find the right domain name and helped them set up their websites.  I have been partnering with GoDaddy for over 18 years because they provide the best service with free 24 hour support. I like the idea that you can enjoy your day, sail away and leave the worry about your web hosting to the experts.  I have retired from building websites however I still offer hosting, domains, security certificates and training to help you manage your own presence on the web.
Visit my online store at www.sailawayhosting.com to shop for your perfect domain.  Click on the link or the image below.  You may also contact Coach Sheree for help setting up your account to secure your domain name or other web services.
Searching for Answers on How to Fix Your Website?
Consult with Web Designer Sheree Lincoln
For the price of a top shelf Martini  (or two Piña Coladas!) I offer web consulting to help you meet your website goals. $15 for $15 minutes or $50 for a one hour consultation can go a long way towards helping you struggle less with your website project. Visit my Contact Page for my Venmo and Contact Information and links to my personal site, my art and my other businesses click here.
Health Coaching Services Coming Soon
To add to my coaching skills I am currently enrolled in the ACE Health Coaching program and will be graduating in September. Learn  more  about  partnering with a Coach on my Coaching Page – click here