Inspiring Confidence Through Coaching
My name is Sheree Lincoln.  I am passionate about inspiring confidence and finding balance through coaching, wellness and adventure as a Paddle Board, Health & Wellness Coach and as a Website Coach. As a SUP & Web coach my goal it to encourage, educate, guide and support my clients in advancing their skills.  Wellness and health coaching is a collaborative effort where my wellness warriors have a unique opportunity to work together with me as a team to support their unique wellness journey.  Like Super Trainer Jennifer Jacobs says "Your health is Job 1!". I am currently studying with the American Council on Exercise to become an ACE Certified Health Coach for 2022.
I am hear to be your personal cheerleader, collaborator and "encourager"!  For years I have been known as Coach Sheree through my other business, Sea Dog Eco Tours where I teach paddle boarding with a focus on fitness. I realized that I was a coach whether as a Paddle Boarding Coach, a Wellness Coach or a Web Coach!  It is much easier to be known as Coach Sheree no matter which hat I have on that day.  I am the Web Designer and Owner of the business formerly known as SailAway Hosting at BrassWind Designs,  in Fremont, Michigan.  Not unlike The Artist formerly known as Prince, I am re-branding.   My coaching business is now known as SailAway Coaching LLC.
Web Coaching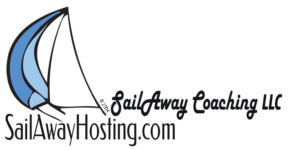 I have been a reseller of GoDaddy services for over 17 years using my domain name SailAwayHosting.com promoting the idea that you can enjoy your day, sailaway and leave the worry about your web hosting and website to me!  When you license your domain or host your website with through SailAway you also get to consult with me along and get free 24 Hour Support from the helpful staff at GoDaddy and SecureServer.net.  Are you looking for the perfect domain name or to host your WordPress or HTML Website?  I can help you set up your web hosting account and secure a domain name that helps you meet your goals or you can start browsing for the best one for you on my Domain Search Page – click here.   Having trouble getting your eMail set up on your phone?  I provide basic IT services as well.  Learn more on my Services Page – click here.
Shop For a Domain, Hosting & More or Login To Your Account Here
Paddle Board Coaching
Paddle Boarding offers a wonderful view of the waterways, as much relaxation or exercise as you could wish for and life is better when we find balance! As a certified paddle board coach I introduce people to paddle boarding, work with beginners to intermediate paddles to enhance their skills as well as training advanced paddlers for racing and certify instructors to teach paddle boarding through the World Paddle Association.  I also offer paddle fitness, cardio classes and the famous PaddleFit Challenge! You can read more about my coaching services on my Coach Page – click here.
Health & Wellness Coaching – Wellness Warriors Unite!
Currently I am enrolled in the ACE Health Coach Program through the American  Council on Exercise.   The online coaching systems I have in place offer accountability and connection, encouragement, mindset, nutrition and recipes, workouts and more.  Learn more about how you can become a part of my team as a Coach or as a Wellness Warrior.
Read more on my Coaching Page – click here.
How I Work, Play and Balance My Life!
I balance my time between sailing, coaching, wellness and adventure as a Paddle Board, Wellness and Website Coach. I limit the number of projects I do each year for two reasons. First,  because  I am semi-retired  from website building and second because when I turned 60 I promised myself I would spend more time on the water  (It helps that my office is a sailboat!).  I give guided paddle board tours and lessons, through my other company Sea Dog Eco Tours, in the Fort Myers Beach area where I live on the sailboat called SpiritHawk.
Please contact me to set up a time for a free consultation about your project or to learn more about joining our wellness team, by calling 231-335-7278 or visit my Contact Page for more ways to get in touch.
The Next Course…
Choose you!  It's time to get on the right tack. Let's chat!  Text Coach Sheree at 231-335-7278 and set up a time to talk one on one!
Tacking (sailing)
231-335-7278