It's Your Story…

My Clients appreciate the knowledge and guidance I share with them and love seeing their ideas come to life, on the internet, without them having to stress over the sea of technology. They get to ride a long and enjoy the view!
If you already have an account with SailAwayHosting.com click here or on the text menu above to sign in.
Why Choose Me?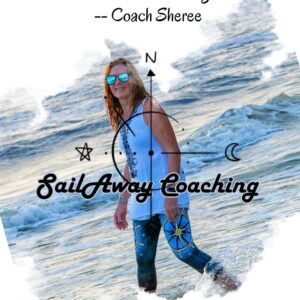 The computer highway can be treacherous. You don't want to get run over! I can help you navigate the net, save your sanity and portray your business in a way that makes sense to you, your customers and the search engines. I want you to be able to set your sails and leave the worry to me. As a Web Consultant and Creative I bring more to a website project than just technical skill! I create web pages from an artist's perspective using my art, design and technical training. I am willing to share my web design skills and professional training with you on a consulting basis.
Creativity + Experience = An Affordable Approach

My customers appreciate that I can offer them an affordable website and a branded style to use on other collateral materials. I can save them hundreds, sometimes thousands of dollars on their website projects. For professionals, businesses and non-profits to be successful in this online world your web site and social media branding needs to be effective; affordable is a really nice bonus! I started learning HTML in 1997. One of my first websites about African Elephants was featured in Yahoo Internet Life Magazine touched by net! In 2004 I went back to college for a two year web design degree.
Web Marketing
Coordination of your presence on the Web from finding the right domain, building your website, managing or coordinating your social media, registering you with internet directories, search engines and more.
User Friendly Web Services
Approachable, user friendly training, counseling and consulting for small projects and big projects.
Website Hosting with Cpanel or Plesk
eMail Set Up
SmartPhone Training & eMail Set Up
GoDaddy Website Builder
WordPress & Wix Consulting
GoDaddy Quick Shopping Cart
Security Certificates – SSL
WorkSpace Email
Woo Commerce & Ecwid Ecommerce Shopping Carts
Dedicated Servers Available
Website Backup
Website Security & Monitoring
Search Engine Optimization – SEO
If you are ready start your domain search with the search box to the right, visit the Domain Page to learn more, or sign into your account at shop.sailawayhosting.com.
Responsive Website Design
I can create HTML5 websites, update your Wix website or your WordPress Blog or WordPress website. I can install entirely new WordPress or Wix sites content management web pages for you, that are interactive and responsive in design. I customize themes and templates from Go Daddy, WordPress and other developers who offer their themes and designs at www.ThemeForest.net. Visit Themeforest.net or WordPress.org to browse themes or let me find a select few for you to choose from. Give me a call and let's talk about your project. Visit my Contact Page to connect.
SEO & Google Business Listing Help!
When it's time to share your story on the Web it is important to have it search engine optimized, also known as good SEO. It is even more important to claim your free Google Business Listing. I can help you with both of these things. This may not mean that you won't get any more robo calls saying your Google Listing has not been updated, I still get calls however you will be able to hang up on them with full knowledge that you updated or claimed your Google Listing. To me re-wording a website to maximize site optimization is a rush! Better than chocolate..almost!
Great Support
It's important to feel supported. Sail away and leave the worry to your Web Consultant — Sheree Lincoln — and the helpful staff at GoDaddy who provide free 24 hour. They also host your WorkSpace Webmail which can coordinate with your smartphone or desktop email program as well.