I offer coaching services in four main areas. Website Coaching, Paddle Board Coaching, SUP Business Set UP and Wellness Coaching.
Website content, management, set up, site optimization (SEO), domains and content. Read more on my Web Services Page – click here.

Paddle boarding from beginner to Advanced paddlers including race training through my other company Sea Dog Eco Tours. I am also a World Paddle Association Instructor Trainer who can certify other SUP Instructors and Guides to teach paddle boarding. You can join me as a guest on one of my eco adventure tours or you can join me as World Paddle Association (WPA) Level I Paddle Board Instructor. You can learn more on my WPA Certification Page where there is also a link to book a private or semi-private certification session — click here.

SUP Business Set Up NEW in 2021. More information coming soon on how I can help you set up a paddle boarding business of your on as a Sea Dog Eco Tours Affiliate Business. You can set your own schedule, use the Sea Dog Eco Tours online booking system through FareHarbor which is a huge benefit since Sea Dog Eco Tours is well ranked in Google and other search engines. I will provide a web page about you as a guide and instructor along with the embedded booking system. I will meet up at your location and help you set up your tours, take photos and write descriptions if you wish. I have a package for paddle boards to get you up and touring! More details coming soon!

Wellness Warrior coaching with PaddleFit Paddle Fitness & Cardio Classes as well as Wellness Coaching using BeachBody Programs and tools. Find out how you can join my private FaceBook Group, Taking Summer Back. Scroll down to read more about Team Taking Summer Back and the wellness program we offer.

New Coach Sheree is studying to be an ACE Certified Health Coach!
What is a Coaches Responsibility?
It is a coaches job to foster self-compassion to allow the client to be their more authentic self. A coach also encourages the client to break the habit of negative self-criticism which undermines insight and leads to avoidance of taking the desired path. It helps to spend time exploring our mindset and values as well as our vision and purpose. Being part of a team helps each of us be accountable and set priorities which leads to good choices with real results and real rewards! I love being a coach because it changes lives including my own! Contact me to find out how you can be a coach on Team Taking Summer Back!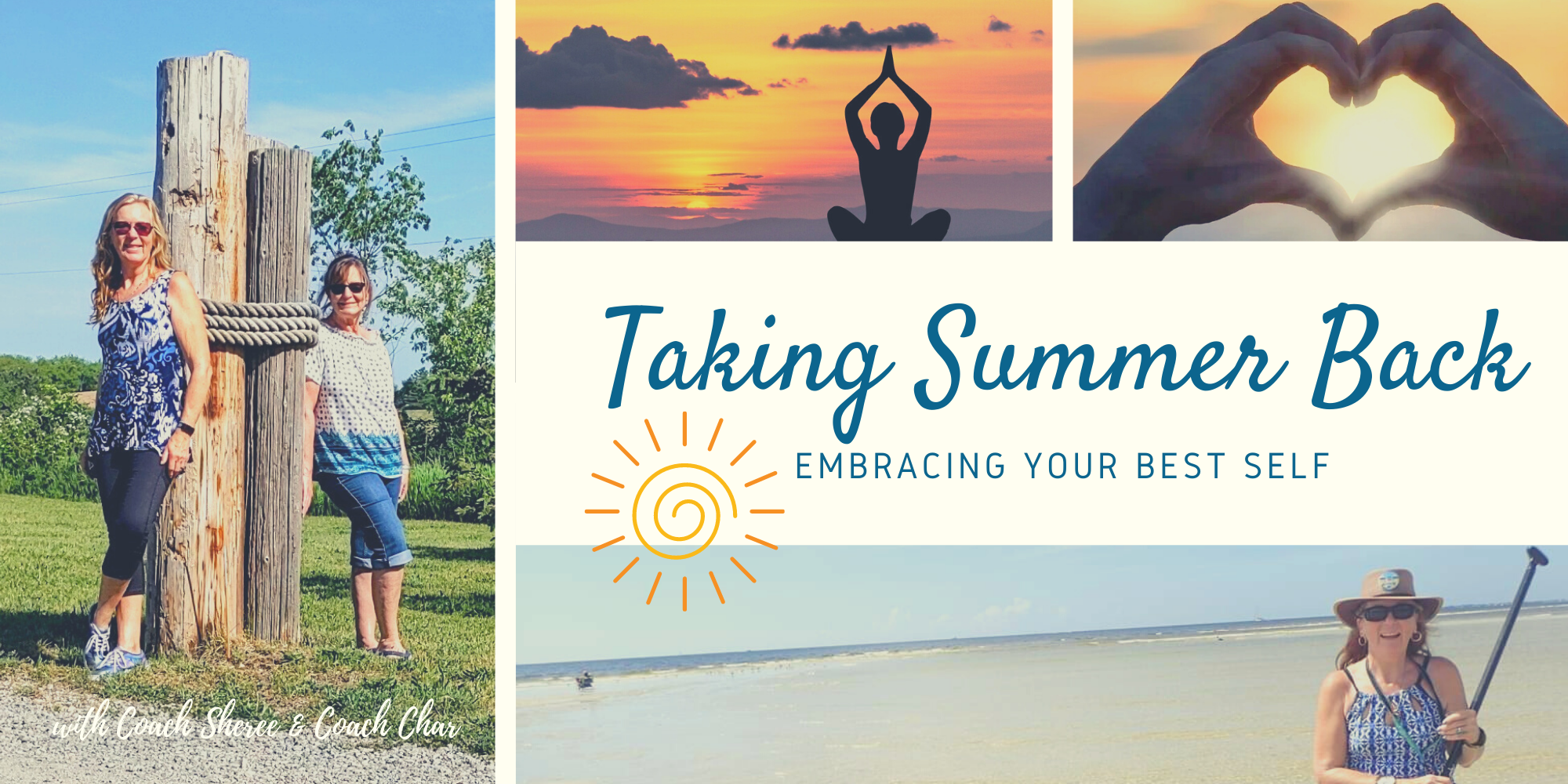 What Does Our Wellness Program Include?
ACCOUNTABILITY AND COACHING
Membership to my CLOSED Facebook Page
Group Motivation + Accountability + Great Coaches are a game change for reaching your goals.
We will talk you through the program, share recipes, tips, inspiration and more.
The group is full of many other wellness warriors working on themselves just like YOU!
A weekly Zoom Meet UP with me, our Coaches and other Wellness Warriors!
1 YEAR OF STREAMING WORKOUTS
Over 50 different programs via BeachBody on Demand — yoga, pilates, strength training, cardio , dance, and more that can be done from anywhere on your ON schedule.
NUTRITION PLAN
This is tailored to you and your goals for your wellness journey. It is well balanced, sensible eating with no crazy elimination of any food group. NO counting calories, no starving! You can choose from 2 different nutrition guides, written by nutritionists that go deeper into eating mindset, grocery lists, food lists and more with portion control. You even get to keep your wine or vodka!
SUPERFOODS & RECOVERY SHAKES
These are in addition to your meals NOT A MEAL REPLACEMENT! They offer a healthy alternative to random snacking especially on the go. They 16 to 17 grams of protein, have probiotics, prebiotics, digestive enzymes, adaptogens, all the healthy things we need that are heard to fit in our daily diet on a regular basis. They also have fiber, antioxidants, vitamins, and minerals, all crucial to being healthy, having enough energy and feeling great. The Recover shakes have been a delicious alternative to the Chocolate Milk I loved a a child. They include 20 grams of protein and ingredients that help combat exercise-induced muscle soreness and jump-start recovery so you can hit every workout with strength and intensity. I take Recover after every workout and my longer paddle boarding tours to help combat exercise-induced muscle soreness, speed muscle recovery, support muscle growth, and restore my strength.