Hi my name is Sheree Lincoln.
Artist & Web Designer
Paddle Board Instructor Trainer
Wellness Warrior
Sailor ☆‿~⁀~🐬~‿~⁀☆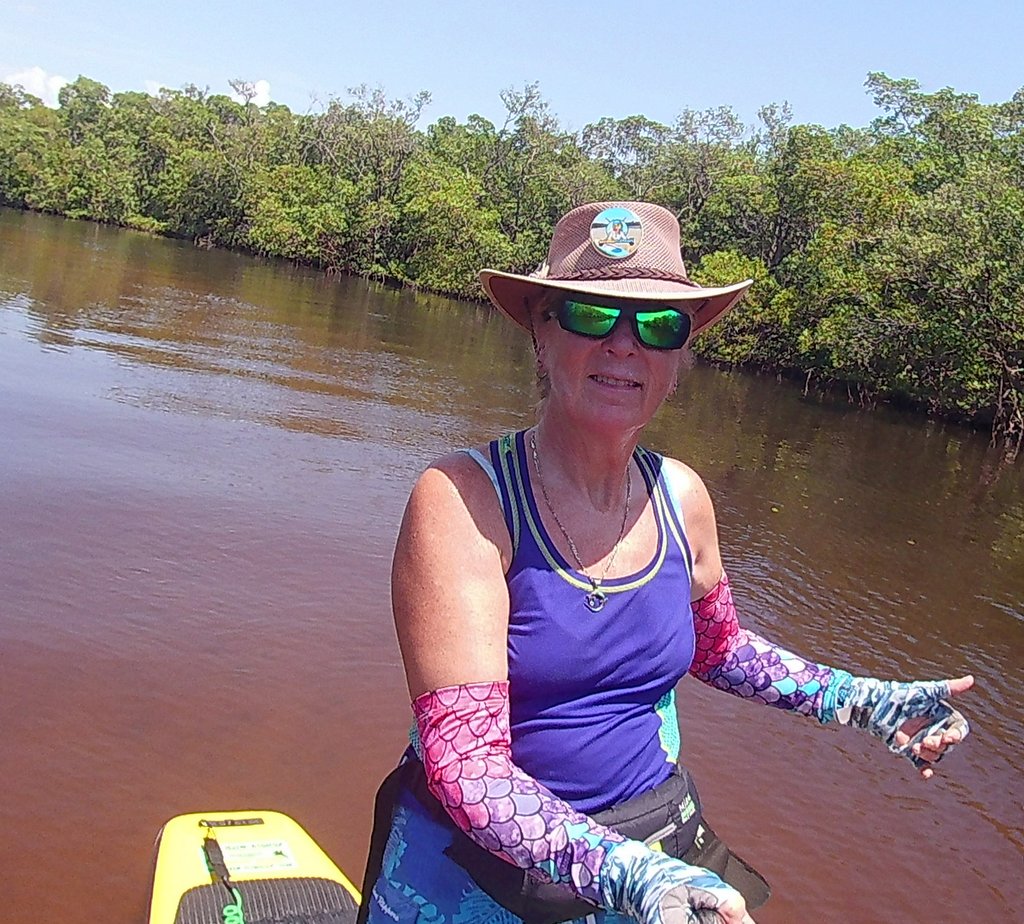 So I wear a few different hats. Twenty years ago I started my Web Design company, BrassWind Designs, and built websites for clients and helped them learn to navigate the Net. In 2011 my husband at the time retired and started building wood kayaks. We bought a building in Indian River, Michigan for his boat shop. He then suggested we offer kayak and paddle board tours and rentals in Northern Michigan. That is when I discovered paddle boarding and fell in love!!! In 2018 I realized the summer season is soooo much longer in Michigan! I now l live in Florida full time and offer guided paddle board tours and instruction in Fort Myers Beach, Florida through my business Sea Dog Eco Tours. NEW in 2021 I have also added Health & Wellness Coaching as part of a team of Wellness Warriors through an online program and company that I love! Private Message or better yet find time for a call. I would be happy to share with you how you can connect with me and my team on our private FaceBook Group, Taking Summer Back for support and accountability, nutrition, mindset, friendship and online workouts you can do anywhere. It may be that this seems like a workout and nutrition business but it is so much more…. your health is not an option it is your Job!
Did I tell you I live on a sailboat? I grew up sailing with my parents. After my Father retired they spent 25 years living on a sailboat a great part of the year and traveling the Florida Keys and the Caribbean. I am super excited to continue the tradition and now live on a 40 foot Schooner, SV SpiritHawk, along with my life partner, James Reed, an Alaskan Native from the Tlingit Tribe. He is a fellow artist and a 4th generation shipwright.
I am often asked why I have had so many different careers? The first career I wanted was not available to women in the seventies. I grew up wanting to be fireman. Truly. People kept telling me I could not be one. So I worked a lot of other jobs partially out of geographical necessity and partly because is I love a lot of different things. Eventually as a strong, smart women I knew that I could try and be successful at a lot of different things. And so can you!
It started after high school I went on to college at the New York School of Interior Design in New York City in 1976 where I studied design and visual concepts. However, the jobs I worked during college led me to a slightly different career path. During college I worked at Shearson Lehman Brothers and went on to be New Accounts Manager for the multi-million dollar investment firm Oppenheimer in their Commodities Division on Wall Street. This unique combination of an art and design education, business courses and work experience has served me well over the years as an entrepreneur and small business owner. When I started having children in 1985 I chose to move back to Michigan where I as born to bee closer to my parents. There are not many commodity operations jobs in rural Michigan so I actually ended up working as an Interior Designer for a few years, then got tired of the commute and became license to sell insurance and real estate and did that for about 10 years. Eventually, as you already know I went back to college for Web Design to fine tune and update my skills to embrace the Internet Era. I graduated Summa Cum Laude and have been consulting, designing and managing websites ever since. I have been a reseller of GoDaddy services through this website and my reseller store at www.shop.sailawayhosting.com since 2004! Today I am semi-retired from my web design business, however I still do web consulting, what I call web coaching, to help you launch your own website for select group of clients.
To see my art, and learn more about it visit my personal website at www.shereelincoln.com. To learn more about my paddle boarding business please visit www.seadogecotours.com.
To learn more about James Reed, his wood boat building skills, his art and his indigenous heritage visit his personal website at www.kingsawin.com
To learn more about SV SpiritHawk, a 1972 Pacific North West Schooner, follow her @sailingspirithawk on Facebook and Instagram.